If unfortunately you lost dental units, despite having placed restorations with resin or another type of dental repair Now, with the help of technology and new materials, your smile can reappear through the use of a dental prosthesis that can be both fixed and removable.
In our Dental Clinic in Quito we have qualified dental laboratories that allow us to ensure the excellent quality of the prostheses that we make for you and thus rehabilitate your chewing function and the aesthetics of your smile.
Next you will know the types of prostheses or dentures that exist so that you have better information when you need to recover your teeth.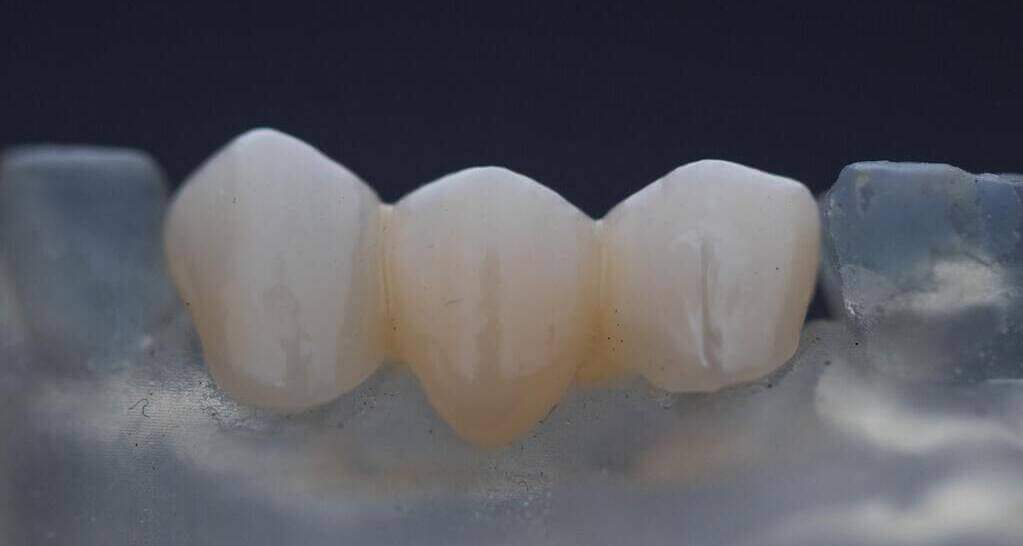 ---
What are Dentures?
A prosthesis, also known as dentures, is a device that is made mainly of acrylic material and its design is anatomically personalized.
This device fits perfectly in the patient's mouth and places false teeth in places where there is a lack of natural teeth.
Its purpose is to replace missing teeth with false teeth but that have the appearance of natural teeth.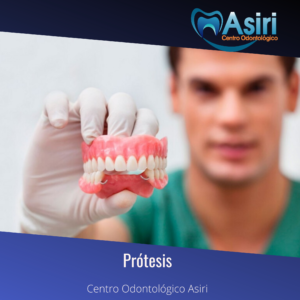 ---
Importance of Dentures
When losing teeth, the chewing function of missing teeth is lost mainly.
The generation of sounds when speaking (phonation) is also affected due to the unwanted escape of air when speaking.
There are also aesthetic implications due to the exposure of empty spaces that affect the visual harmony of the smile.
The main function of dental prostheses is to recover the chewing, phonation and aesthetic function. This restorative function shows the great importance of these attachments.
---
Problems that can be solved with dentures
Absence of teeth: This is the main problem that is solved, these dental absences can be congenital, due to blows or dental trauma, due to severe caries that prevents dental restoration of the tooth and that makes the extraction of the tooth necessary.
Digestive problems due to deficiencies in chewing: As there are no teeth, it is difficult to chew properly, and this affects the digestive system by not generating an adequate food bolus for its correct processing in the stomach.
Deficiencies in phonation due to air leaks: to speak we need to move our mouth, lips, tongue and make the air flow in a very particular way. In this role, the teeth are structures that allow adequate air flow to create the sounds that make up human speech.
Lack of aesthetics due to spaces without teeth (edentulous): The lack of some tooth is the cause of the decrease in the harmony of the smile when seeing the empty spaces where there were teeth before .
---
Our appearance on a TV show about Dentures
---
Terms you should know:
Edentulous: That does not have one or more teeth
Occlusion: Synonymous with bite. The way the teeth fit over each other for the purpose of chewing.
Acrylic: Pink-colored material in which most prostheses are made
Chromium – Cobalt: Special metallic alloy used as a skeleton that increases the rigidity of some types of prostheses
Retention: en The force that holds a prosthesis in place, normally these forces come from the hooks of the prosthesis or the gap that forms between the prosthesis and the internal mucosa of the mouth.
Abutment: Natural tooth used as a post in a fixed bridge
Model: exact replica of a person's teeth. It can be a plaster cast or a 3D digital scan of the same.
Alginate: gel material used to take an impression of the patient's teeth and then make a plaster model .
Tray: structure where the alginate is placed prior to taking the impression
Bite impeller: exact replica of a patient's bite made of wax.
Sharpening: Wax prototype of a prosthesis. This is a specimen that is used to be tested in the patient's mouth before making the final prosthesis. The purpose of this test is to verify and correct the prosthesis so that its final occlusion is satisfactory.
---
Types of Dentures
There are many types and many ways to classify them. The simplest way is according to its mode of retention in the mouth:
Fixed dental bridges
This type of prosthesis is adhered by means of special cements to the dental structures prepared for this purpose (abutment teeth)
Usually these abutments are dental pieces neighboring the edentulous (without teeth).
A very important type of fixed dental prostheses are prostheses on dental implants .
There are also adhesive prostheses such as Maryland Bridges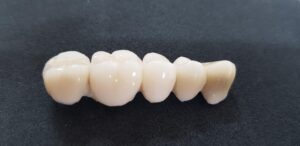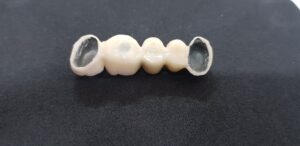 Removable dental plates
Unlike fixed dental prostheses, removable ones can be removed and placed at the discretion of the person who wears them.
Retention is given by hooks or by the vacuum that is generated between the contact surfaces of the prosthesis and the oral tissues.
The most common type is the Total Removable Complete Denture

When the prosthesis replaces a portion minor, we are talking about Removable Partial Dental Prosthesis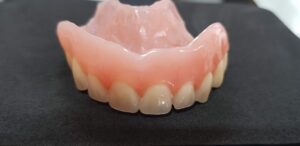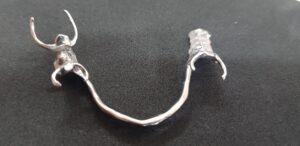 ---
Steps to recover your teeth through a Dental Prosthesis
In general, these are the steps to have a Dental Prosthesis, remember that each case is different so these steps may vary.
Time required: 7 days.
In general, these are the steps to have a Dental Prosthesis, remember that each case is different so these steps may vary.
Tiempo Necesario : 7 days 0 hours
In general, these are the steps to have a Dental Prosthesis, remember that each case is different so these steps may vary.
Contact your trusted dentist

It is always important that each dental prosthesis case is previously evaluated, if you want take this first step, just contact us to schedule your evaluation appointment with our dentists .


Evaluation

In this appointment, we will evaluate your condition, most likely we will require x-rays that allow us to determine the possibilities and choose the best path for you.

Selection of the dentutres to be made

We will discuss your case, we will present the existing options and we will recommend the best option as we continue. In this step you will already know the price of your dental prosthesis, since the technique and materials that your case needs will be known.

Taking Molds

They are obtained plaster models that are an exact replica of the inside of your mouth. This is done by inserting into your mouth some trays that contain a special material called alginate and that starting as a gel, then it will become more solid, thus copying the shape of your teeth and tissues.

Bite record

It is also necessary to copy the way you bite right now to be able to place the lower and upper models in their relative position as they are in your mouth.

Dentures design

With all this information, the models and the experience of your rehabilitating dentist, a design is made of the shape that the prosthesis should have, for example, whether or not it requires hooks and how they should be. All this design has the purpose that the prosthesis is very stable inside your mouth and that your chewing function is correct.

Wax prototype test

It is made in wax a prototype of your prosthesis that will be taken to your mouth to verify that it fits well and that the initially designed works correctly.

Adjustments

If necessary, Small adjustments are made to the prototype to ensure the success of the treatment.

Final denture fabrication

With the leading edge already adjusted and following special techniques, this prototype e n wax is used as a mold for your final prosthesis, which is usually made of acrylic.

Final tests and adjustments

With the prosthesis already made, you will have a new appointment where we will install it and make the adjustments that are required so that it is perfectly adjusted to your mouth

Controls

It is always very important that you periodically perform your Routine check-ups with your dentist so that the correct evolution of your case is verified and corrective measures are taken if necessary.
Herramientas
Plastic Trails
Destist specific tools
Materiales
Acrylic
Chromiun Cobalt
Ceramic
---
Conclusions
Having missing teeth is a problem that you can solve with dental prosthesis techniques. At the Asiri Dental Center, we can evaluate your case and you will have an honest opinion of us and also, based on our experience, you will have the information you need to make a decision adapted to your reality, contact us .