Removable complete dentures helps you when unfortunately all of your teeth have been lost. Loss that causes the loss of very important functions for humans such as chewing and other functions are severely affected such as speech.
There are factors, among them the duration of the lack of teeth, that have a significant influence on the mental attitudes of edentulous patients 1.
That is why it is so important to be able to recover those lost teeth as soon as possible . Your trusted dentist can help you in the preparation of dental prostheses that recover lost or affected functions and primarily recover your oral health and quality of life.
These complete dentures can be removable or supported on implants. In this article you will learn about removable complete dental prostheses and most importantly: we offer you a reference guide with everything you need to know, from how to obtain it to how to take care of it, passing on how to get used to using them.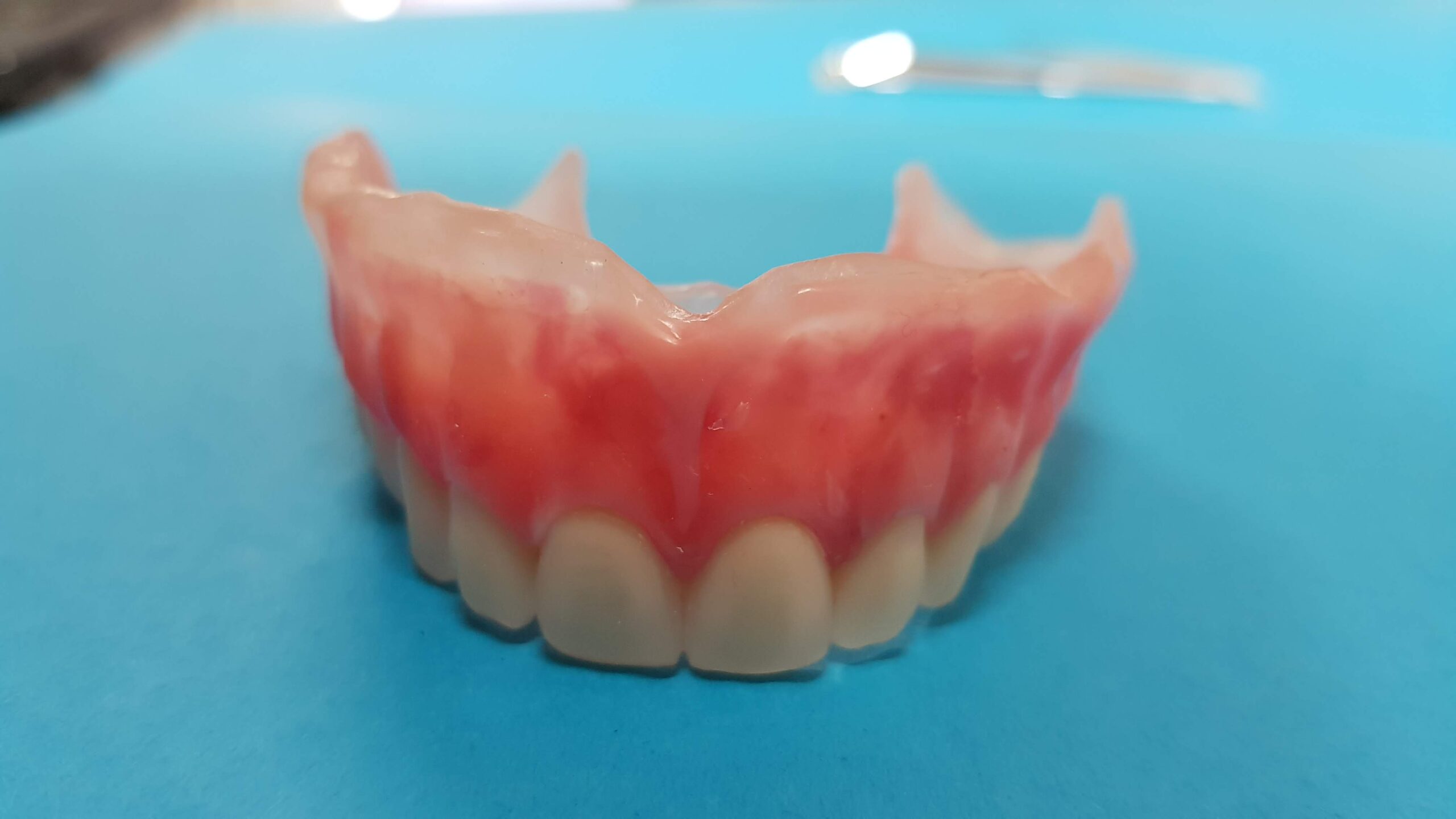 What is a Removable Complete Dentures?
A total removable prosthesis is designed to be a substitute for all the teeth of an arch, either the upper jaw or the mandible.
It has all the false teeth and they are made of acrylic in the same color as your oral mucous membranes (gums and palate).
They remain attached to the inside of your mouth by the effect of the vacuum created by contact with your mucous membranes and the humidity of the oral cavity.
Steps to make Removable Complete Dentures
Like all dental procedures, prostheses must be performed by visiting your trusted dentist who is the only one authorized to perform treatments in the mouth.
If the dentist is specialized in the area of ​​prosthetics, he is called a prosthodontist or Oral Rehabilitator
Your dentist will work hand in hand with your dental technician, who with his knowledge, will follow the instructions that he indicates so that the final result is successful.

Initially they will take an impression of the inside of your mouth, usually it is made with a material called alginate
With these models, custom trays are made to take a new impression with more anatomical details for the exact adaptation of the prosthesis
From this impression, plaster models are obtained that have the exact shape of the inside of your mouth
On this model, your dentist together with your technician dental will design and make, in wax, a trial prosthesis
This trial prosthesis will be brought into your mouth to evaluate a large number of aspects related to your bite.
Most likely in In the previous point, there will be modifications to the trial prosthesis.
The already modified trial prosthesis is tested again in your mouth and so it will be successively until obtaining a trial prosthesis with the exact shape that it must have so that your bite is satisfactory.
Through special processes In the dental laboratory, the trial prosthesis that is made of wax is transformed into a definitive prosthesis made of acrylic.
First Days with a Complete Denture
Once the removable complete denture is finished, an adaptation process begins that will culminate in your entire satisfaction. For this, we have prepared these instructions to better adapt you to your total removable denture.
The first tip: Be patient
Little by little you will get used to your new prosthesis, at first it will be somewhat uncomfortable but you will adapt.
During the first days you will feel the prosthesis as a foreign body inside your mouth, this can cause discomfort and increase the production of saliva. & nbsp; Keep using it and don't despair, it's normal and will only last a few days.
This temporary feeling of discomfort is due to the fact that the new complete denture always occupies more space inside your mouth as it is built on top of your normal tissues.
aph ->
We reiterate that the aforementioned sensations are temporary, disappear after a few days, do not be discouraged .
Mainly if the prosthesis is in your lower teeth, you can present the feeling that your tongue has a very reduced space, which in fact is the case. Be patient, as you will soon get used to the new situation and everything will return to normal.
Learn to Chew with Removable Complete Dentures
Chewing should be gradual, at first you should eat soft foods that allow your muscles to perform the natural movements of chewing. & nbsp; Do it slowly, so you will get used to the use of the prosthesis and the pressure that the prosthesis exerts on the tissues of your mouth. & Nbsp;
Start with very small portions that allow you to control your movements and detect new sensations. & nbsp; & nbsp;
Use both sides of the denture, especially the back, which is the one with the molars, which are the teeth designed for chewing. & nbsp;
Learn to Speak with Complete Dentures
For the same reasons explained at the beginning, feeling like you have a foreign object in your mouth will make it difficult for you to speak.
You can practice reading aloud in front of a mirror, so you will better control your tongue and mouth and quickly get used to speaking perfectly. & nbsp; & nbsp;
Possible Appearance of Reddened Areas
Due to the friction of the prosthesis on your tissues, it is very likely that they will become irritated and bother you, mainly when chewing pressure is exerted.
If this happens to you, consult your dentist for help.
Time of Use of a Complete Denture
Your prosthesis is for daily use, you must use it throughout the day and remove it only for cleaning after each meal as well as during nighttime sleep.
It is very important to remove them at night and thus give rest to the internal tissues of your mouth.
Cleaning and Maintenance of Your Denture:
Always have two soft bristle toothbrushes available :
One for your mouth
Another for your prosthesis.
In the case of cleaning your mouth, you should brush the inside very gently after each meal. Don't forget to brush your tongue too. foods. Use your toothbrush and a small amount of fluoride toothpaste.
In the case of your prosthesis, you must clean it at least twice a day with its exclusive brush and a little neutral soap . & nbsp; Make sure it is completely clean without food debris or dental plaque
NEVER use toothpaste or other products that can be abrasive such as vinegar or toilet soap.
You can also use special effervescent tablets for cleaning dental prostheses such as corega tabs
Every 6 months visit your trusted dentist to do a complete maintenance on your prosthesis, check its fit and your occlusion (bite)
Only your dentist should make the adjustments or modifications that your prosthesis needs.
Conclusion
Having, getting used to and maintaining a removable complete denture is not a complicated process, you just have to be patient at first and adjust your grooming routine to keep it impeccable.
Remember that the main objective of the prosthesis is to recover your chewing function, speech and your beautiful smile.
At the Asiri Dental Center, you can have the help you need since we like to return smiles and do good with honesty and sincerity. Contact us
References
| | |
| --- | --- |
| 1. | Bhochhibhoya A, Rana SB, Sharma R, Khapung A. Impact of sociodemographic factors, duration of edentulism, and medical comorbidities on the mental attitudes of individuals with complete edentulism. J Prosthet Dent [Internet]. 2021 [cited 2022 Dic 15];128(6):1283–8. Available from: http://dx.doi.org/10.1016/j.prosdent.2021.04.007 |
Author